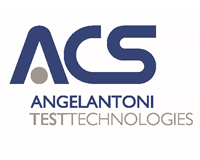 Angelantoni Test Technologies
Località Cimacolle, 464 – 06056 – Massa Martana (PG) – Italia
Tel. +39 (0) 75 89551
Fax +39 (0) 75 895520
Angelantoni Test Technologies
Thanks to the experience and technical know-how of a team of international experts, Angelantoni Test Technologies can offer solutions for tests and inspections in many fields. ACS is the company's leading brand in test systems technology and has been setting the standard at global level since 1952 for the design and production of a wide range of simulated environmental test chambers, including high-tech products like High-vacuum Chambers for aerospace applications and Calorimeters.
Angelantoni Test Technologies has a turnover of around 40 million Euros with 200 ATT employees and is represented in over 50 countries: it also has its own branches in Germany, India and China.
His clients include major companies in the aerospace, aeronautics, automotive, defence and electronic industry worldwide.
The company is part of the Angelantoni Industrie Group, operating globally from 1932, also active in the biomedical and renewable energy sectors.
SKILLS
Mechanical engineering
Mechanics: metal carpentry structures with thermally insulated parts, refrigeration systems, vacuum systems, calorimetric systems for environmental simulation.
Electronics: process logic control systems (PLC).
Software: testing systems.
Production
Equipment: cutting and punching plant FINNPOWEÈR SG6 at VICLA EVO 170/41 bending machine, guillotine shears, parallel lathes, milling machine, wall chaser, electric pipe bending machine, electric threading machine, TIG and MIG welding machines
helium leak detector ECOTEC 500 PLUS, electrical insulation tester FULL TEST HT 4058 – IMP57.
Special processes
Non-destructive tests: VT – Visual testing, visual check system, PT – Penetrant testing.
Welding: TIG welding, PED brazing.
MAIN DATES
1968:  design and production of the first TVC (Thermal Vacuum Chamber) space Simulator for testing on satellites or on satellite parts
2001: foundation of Angelantoni Mechanical Equipment in China (Beijing)
2005: patent obtained for the "eco" Flower ® chamber with an energy absorption reduced by up to 70%
2013: participation in the ITER nuclear fusion reactor project
2014-16: opening of Sales and Service branch offices in Germany, France, India and China