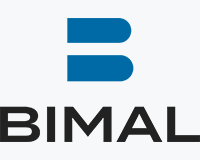 Bimal – Test Industry rsl
Via A.Monni – Zona Industriale 06135 – Ponte Valleceppi (PG) – Italia
Tel. +39 (0)75 59217.1
Fax + 39 (0)75 59217.40
Bimal – Test Industry srl
Since its foundation in 1984, Bimal – Test Industry srl has been focusing on the design and construction of test benches for hydraulic fluid components for the oil-hydraulic, mechanical and aeronautical sectors.
With over 30 years' experience, Bimal is now considered a leader in the field of testing, as well as a technological leader in the field of pressure pulse tests.
The company's technical know-how is safeguarded as all the activities connected to the product are managed directly, from the mechanical and electrical design, to software development, assembly, training and after-sales service.
SKILLS
Mechanical engineering
Mechanics: test benches for fluidic or mechanical components.
Electronics: all that is necessary to produce the machines.
Software: proprietary products.
Production
Test facilities.
Electronic systems: electronic equipment and software.
Services

Assembly
Overhauling.
After-sales service, machine up-grade , modifications, spare parts, calibration.
MAIN DATES
1984: Bimal was founded by Roberto Malfagia and Renzo Bigi
1985: Stefano Vispi joined the company, Bimal sold the first test bench
1992: test benches became Bima's  core business
2000: Bimal started its internationalization path
2014: Bimal transformed to S.p.A. (company limited by shares)