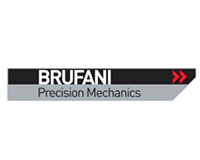 Brufani Precision Mechanics srl
Via dei Platani N. 34-36 – 06083 Bastia Umbra (PG)
Tel. +39 075 8003795
Fax +39 075 8014816
Brufani Precision Mechanics srl
Brufani Precision Mechanics S.r.l. is a company based in Umbria  operating in the field of precision turning and milling activities on behalf of third parties.
Founded in 1980, it specialises in the full production of parts both in series and in limited quantities, for the aerospace sector, from the supply of the material or from the semi-finished product, up to any heat, surface or special treatment.
The company is certified to UNI EN 9100 and ISO 9001 and works on drawing supplied by the client, using ferrous and non-ferrous materials,  plastics and composites.
Our processes can be applied to different sectors: aeronautics, aerospace and defence, energy plants, industrial automation, packaging, robotics, biomedical, mechanics for electronics…
The geographical position, at the foot of Mount Subasio and near the town of Assisi, the quality and high precision machining, combined with a timely delivery are the major strengths of the company.
SKILLS
Mechanical
Engineering: component production cycle with Cad – Cam software.
Production
Machining: milling, turning.
Services
Assembly.
MAIN DATES
1980:  Brufani Mario & C. S.n.c. was founded on the back of the ten-year experience gained in Germany by its founder
2005: The company started working in the aerospace sector
2007: The headquarters were moved to Bastia Umbra: a 2000 square meter facility where the various production areas were carefully identified and implemented.
2015: Brufani Mario & C. S.n.c. became Brufani Precision Mechanics S.r.l.