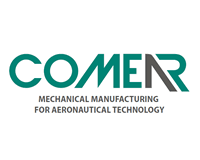 Co.Me.Ar
Via della Tecnica – 06038 – Spello (PG) – Italia
Tel. + 39 (0) 742 711400
Fax +39 (0) 742 711499
Co.Me.Ar., has been operating in the aerospace industry for over 30 years and is a partner of the major companies in the global aeronautical industry.
Thanks to the latest generation CNC machines, operated by a staff of expert technicians and run by a sophisticated CAD / CAM software, Co.Me.Ar. offers its clients a specialised high-level service built around its main activity: machining.
The company is specialised in the production of highly complex mechanical parts with a high level of industrialization, vertically integrated supply and a free-pass full Quality assurance. Co.Me.Ar. boasts about 50 state-of-the-art CNC machines, 80% of which with 5 axes and with multitasking features;  one 5-axe, 24-pallet, with turning and milling function and a 1500 × 1500 mm cube field of work, controlled by a centralized F.M.S. system has been recently installed.
The company can count on the contribution of 150 employees and organizes its production over 3 daily shifts (24h / day) with great flexibility in managing even extraordinary shifts on weekends.
SKILLS
Mechanical engineering
Full engineering of the product's machining, as per client's drawing .
Production
Equipment: laboratory instruments and benches for functional tests.
Machining: turning, milling, boring, tooth forming, hard turning, grinding.
MAIN DATES
1987: supplier and partner of Umbra Cuscinetti.
1997: new plant in Via della Tecnica, Spello, 19,000 sq. m.
2009: strategic partnership with Fucine Umbre.
2011: UNI EN 9100 certification
2014: new precision manual fitting department for deburring and controlling the intersection of bores inside hydraulic bodies, also equipped with ultrasonic and high pressure washing system, complete with drying furnace.