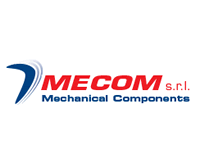 MECOM srl
Prima traversa di via Navello – 06038 Spello (PG) – Italia
Tel. +39 (0) 742 302194
Fax +39 (0) 742 304518
Mecom S.r.l. is a young and dynamic company based in Umbria with a strong inclination towards technological innovation; it was founded in September 2005 by a group of young directors with ten years' experience in the field of precision mechanical construction.
Mecom is a partner for ball screws manufacturers; the company carries out turning and milling operations on behalf of third parties in the industrial and aeronautical sector according clients' drawing; it also produces aeronautical hydraulic actuators, aeronautical hydraulic power units; ball screws (industrial and aeronautical); aeronautical structural parts and more. The company specialises in the aeronautic industry, thanks to the "CAD-CAM" software that allows creating very complex items, such as hydraulic control units, machined from solid billet and structural components that require continuous processing on 5 axes.
SKILLS
Production
Machining: precision turning and milling of aeronautical and industrial items with 2,3,5-axis machines.
MAIN DATES
2005: the company was founded
2009: in March, the company became a member of the Aerospacial Cluster of Umbria.
2009: in June, it participated in the Le Bourget international exhibition, in Paris
2014: the company was certified to UNI EN 9100:2009 UNI EN ISO 9001:2008
2015: transformation to joint-stock company (LLC)