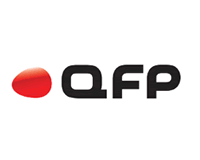 QFP srl
Via Gullotti, 31 Loc. Madonna di Lugo – 06049 – Spoleto (PG) – Italia
Tel. +39 (0) 743 220401 +39 (0) 743 225859
Fax +39 (0) 743 220401
Via degli Artigiani, 8c – 35042 – Este (PD) – Italia
Tel. +39 (0) 429 600477
Fax +39 (0) 429 600477
QFP SUD srl
Viale Gandhi, 17 – 80040 – Cercola (NA) – Italia
Tel. +39 (0) 81 0203852
Fax +39 (0) 81 0203852
Since 2002, QFP has been leader at European level in the field of metrology and of non-contact 3D scanning as well as in the design of mechanisms and structures for the aerospace industry. The company is characterised by its focus on the services rendered which, combined with the relentless research on new technologies and passion for innovation, foster state-of-the-art solutions and results. The team at QFT put their knowledge, expertise and work at the service of the client to ensure satisfaction and a high quality standard. For the non-contact three-dimensional metrology sector, QFP boasts a wide range of measuring system whose technology and scalable dimensions allow the company to provide measuring system at global level and to guarantee the best result according to the type of activity to be carried out. Thanks to the excellent know-how of its team, QFT designs, manufactures and certifies exclusive automated 3D scanning systems, able to measure the 3D coordinates of millions of points per second, thus greatly reducing inspection time and costs, increasing the quality of the products, the inspection process, and reducing waste. These measuring cells represent a significant innovation process and are increasingly used by companies in the Aerospace, Automotive and Energy sectors. As part of the engineering services, QFP boasts many years' experience in the design of cargo and passenger doors for the aerospace sector.
The design staff normally work in international teams and can provide innovative solutions and accurate reporting of 3D modelling and stress analysis (based on the standards selected by the clients), including the final certification documents.
Strategically located in more than one centres within the national territory, QFP ensures a close working relationship, guarantee fast and accurate responses.
SKILLS
Mechanical engineering
The company specialises in design, stress, certification of aero-structures integrated with mechanisms and design of passenger and cargo doors, a sector in which it has remarkable expertise.
Services
QFP can offer clients a wide range of high quality and accurate 3D measurement services both at their premises and at the client's premises, anywhere in the world. The company specialises in: Non-Contact 3D Scanning Services; 3D Measurements of Points in Motion; Step & Gap 3D Measurements ; Dimensional Control Services; Reverse Engineering Services; Surface reconstruction services through CAD systems; Rental and Training Services.
MAIN DATES
2002: QFP was founded in Spoleto as a provider of three-dimensional scanning services and of distribution of technologically advanced devices.
2004: thanks to the experience gained in the field of aeronautics, QFP was involved in mechanisms and structure design programmes such as AIRBUS A380, A330, A350 and BOEING B747, 737.
2005: the second office opened in Veneto, in Este (PD), to ensure the company a close relationship with its clients and fast and accurate responses.
2008: the company obtained the ISO 9001 quality certification.
2009: QFP focused on the research and development of automated and customized non-contact measurement solutions based on specific client's needs.